Cartes objet
20 cartes objets : dont 14 nouveaux effets.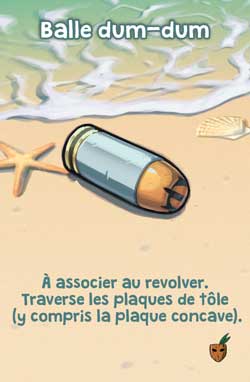 Hollow-point bullet
Requires Gun. Can go through sheet metal (including the concave plate).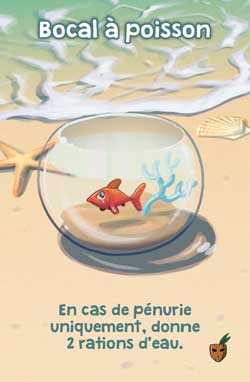 Fishtank
If the water rations are at 0, play this to gain 1 water ration.
Duckie float
Draw 2 cards When performing the Search the Wreckage action. Look at both cards; keep one and discard the other.
Permanent use. But card retrieved if its owner is eliminated.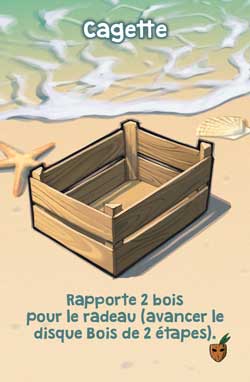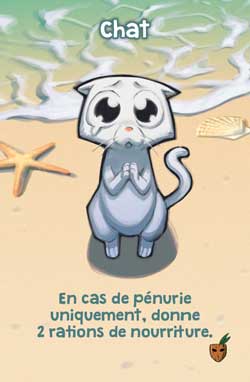 Cat
If food rations are 0, play to gain 2 food rations.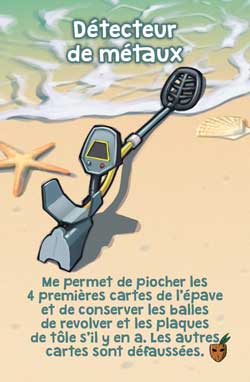 Metal detector
Draw the top 4 cards from the wreckage. You can keep any bullets and sheet metal plates. Other cards are discarded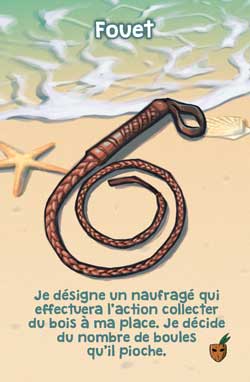 Whip
Choose another player to immediately perform a Collect wood action. You choose the number of balls they draw.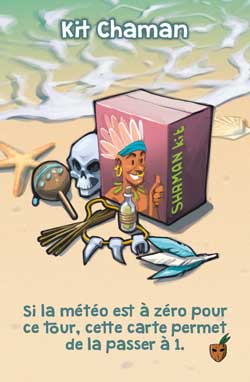 Shaman kit
If Weather card shows a 0-drop, it is considered a 1-drop.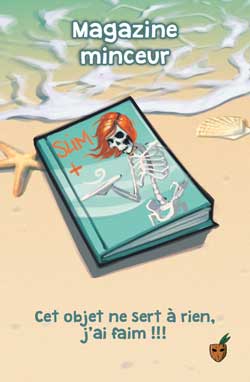 Diet magazine
This object is useless. I'm hungry !!!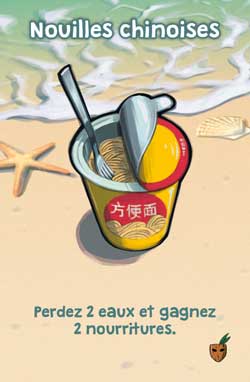 Instant noodles
Spend exactly 2 water rations to gain 2 food rations.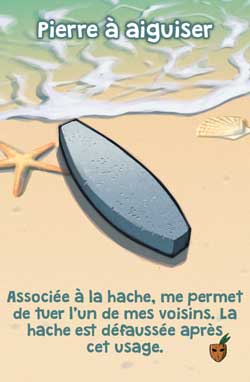 Whetstone
Associated with the axe, allows me to kill one of my neighbors. The axe is discarded after this use.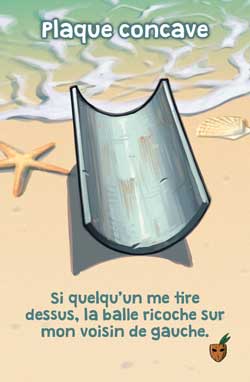 Concave plate
If someone shoots me, the bullet ricochets to hit my left neighbor.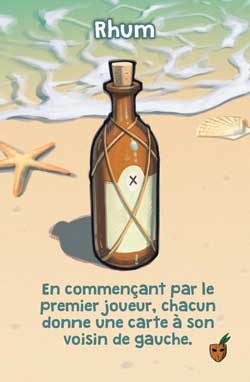 Rum
Beginning with the first player, each player gives a Wreckage card to their left neighbor.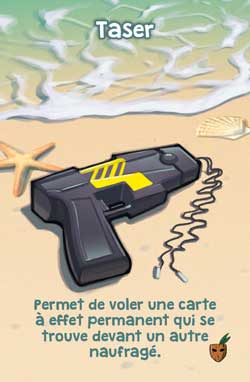 Taser
Steal a permanent card in front of another player and put it in front of you.
Character cards
20 character cards : During their adventure, the shipwrecked discover their talents, and take on a role in the community, for better or for worse!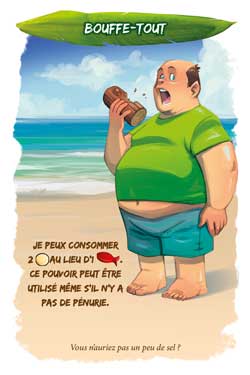 Glutton
If you put enough salt on it...
I can eat 2 wood instead of 1 food. This power can be used even if there is no shortage.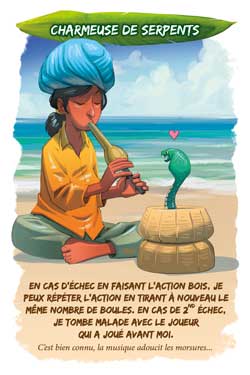 Snake charmer
Music has charms to soothe the savage beast.
If I draw the black ball while taking the wood action, I can put all the balls back and draw the same number again. If I fail again,I get sick, and so does the player to my right.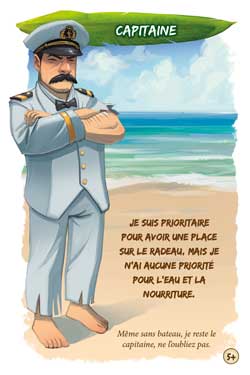 Captain
I'm just sea-worthier than you.
I have priority for a place on the raft, (but I have no priority for water and food).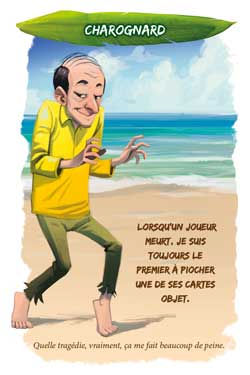 Scavenger
What a tragedy, really. So very sad.
When a player dies I always receive one of their wreckage cards before any other player.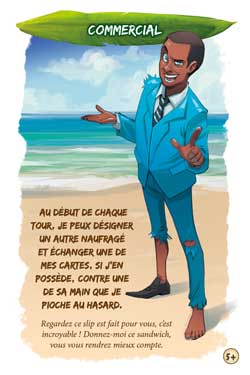 Salesperson
Those undies are a perfect fit! And you'll be sure to keep fitting in them without that sandwich.
At the beginning of each turn I can designate another PLAYER and swap one of my cards - if any - with a random one from their hand.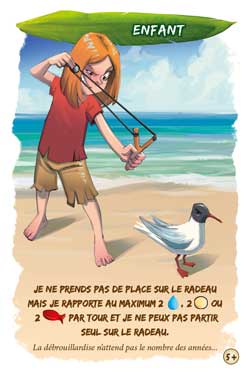 Child
Ingenuity knows no age.
I don't need a place on the raft, but i can't collect more than 2 water, 2 wood or 2 food per round. I cannot leave the island alone on the raft.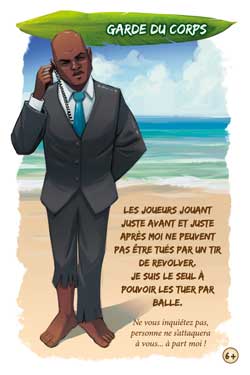 Bodyguard
What can I say, I'm a workaholic.
Players playing just before and right after me can not be targeted by a gunshot. I'm the only one who can shoot them.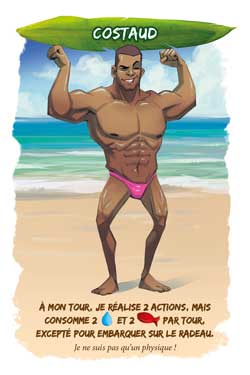 Burly Man
I'm here to PUMP YOU UP!
On my turn I can perfom 2 actions but I consume 2 water and 2 food each round, Except to board on the raft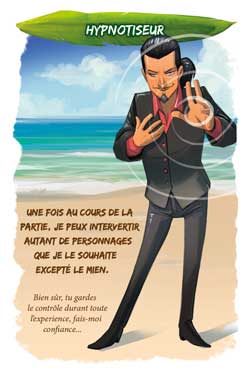 Hypnotist
Trust me, you will keep total control throughout the entire duration of the experience.
Once per game I can swap any number of characters in front of other players, but i must keep mine.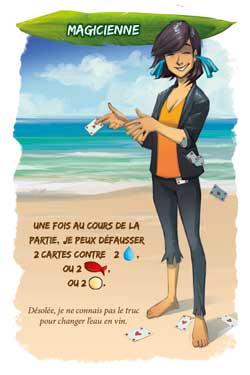 Magician
Sorry I don't know the trick to change water into wine.
Once per game i can discard 2 Wreckage cards for 2 water , or 2 food , or 2 wood .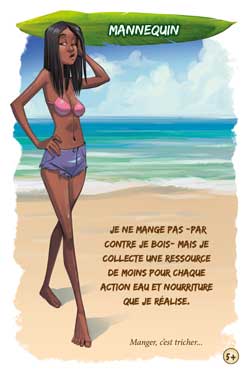 Model
Eating is cheating.
I don't eat - but i drink - and i collect one resource fewer for each water or food action I take.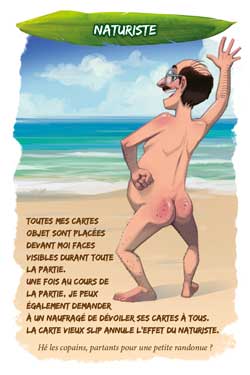 Naturist
You'll feel better when you're free too!
All my wreckage cards are placed in front of me face up throughout the game. Once in the game I can also ask a player to reveal their cardS to everyone. The old undies card cancels the effect of the naturist.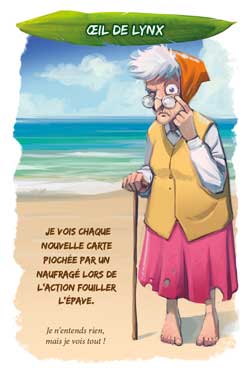 Nosy neighbor
I've got my good eye on you....
If a player uses their action to draw a card from the shipwreck, I look at the card first.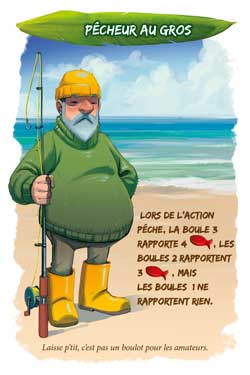 The Fisherman
Let me do this kid, it's not amateur hour.
When taking a fish action, collect 1 extra fish for each 2-fish and 3-fish ball drawn. If you draw a 1-fish ball, it gives you 0 fish - too small.
If this character recovers the fishing rod, each value of the 2 balls he picks must be considered independently.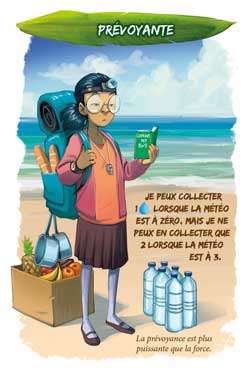 Foresighted
La prévoyance est plus puissante que la force.
I can collect 1 water in 0-drop weather but I can collect only 2 in 3-drop weather.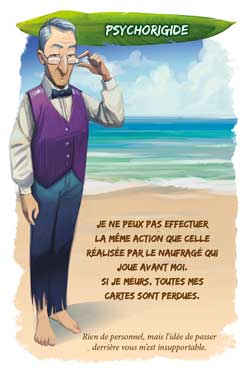 Psychorigid
Nothing personal, but the idea of going right after you is totally beyond my comprehension.
I cannot take the same action the player before me took. If I die, all my cards are lost.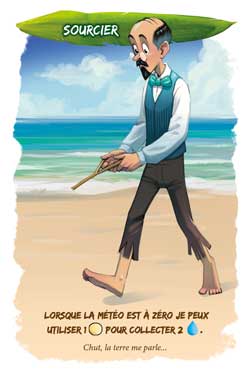 Dowser
I can feel water somewhere nearby...
In 0-drop weather I can spend 1 wood to collect 2 water.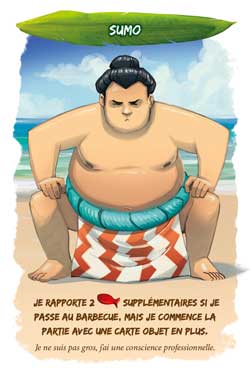 Sumo wrestler
I'm not fat, I'm professional.
I provide 2 extra food if i am cooked with the BBQ Kit. i begin the game with one extra wreckage card.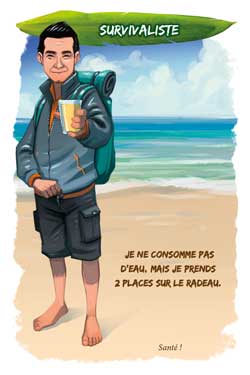 Survivalist
Cheers!
I do not consume water but I take 2 places on the raft.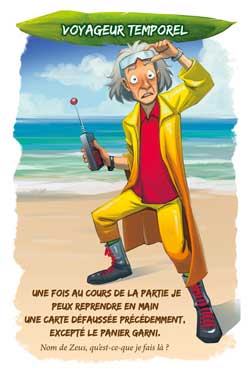 Time traveler
Great Scott!!! what the hell am I doing here ?
Once per game i can take a discarded card into my hand - except the fruit basket.
Event cards
30 event cards : 12 cards will be used each game to define a storyline (less or more catastrophic) for this game.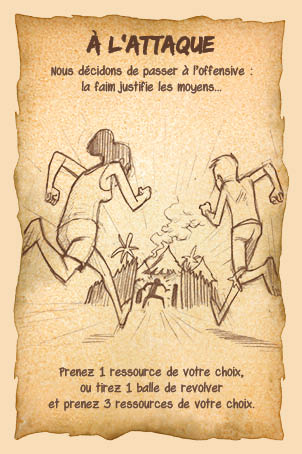 Attack
We decide to go on the offensive. Hunger justifies the means
Take 1 resource of your choice, or fire a bullet with a gun and take 3.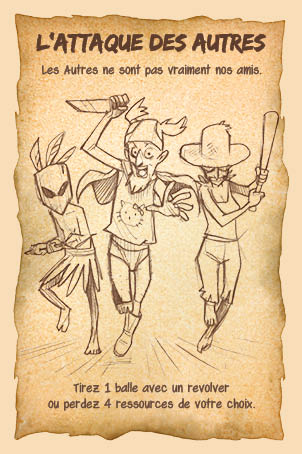 The others attack
They are not really our friends.
Lose 4 resources of your choice. If any player shoots a bullet from a gun, ignore this effect.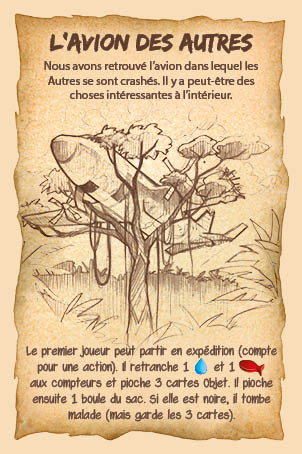 Others' plane
We found the plane in which the Others crashed. There might be interesting things inside.
The first player can go on an expedition (counts as 1 action). They substract 1 water ration and 1 food ration from the track and draw 3 Wreckage cards. They then draw a ball from the bag. If it is black this player gets sick (but keeps the 3 cards).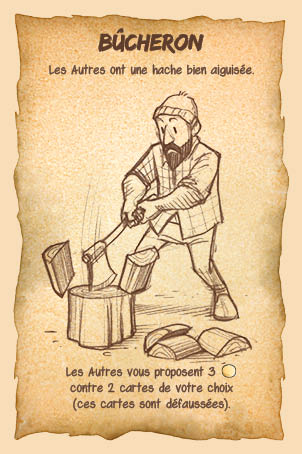 Lumberjack
The Others have a sharp axe.
The Others offer to give you 3 wood in exchange for 2 Wreckage cards from the group (players choose which cards).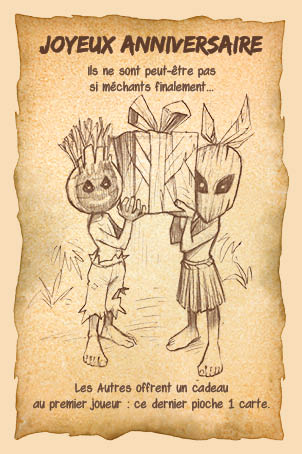 Happy birthday
Turns out they might not be that mean…
The first player reveals the top Wreckage card and then adds it to their hand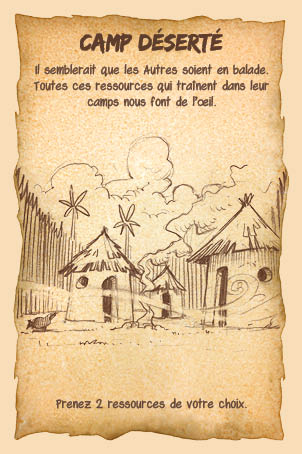 Deserted camp
It seems that the Others are away, and all these resources are pretty tempting...
Take 2 resources of your choice.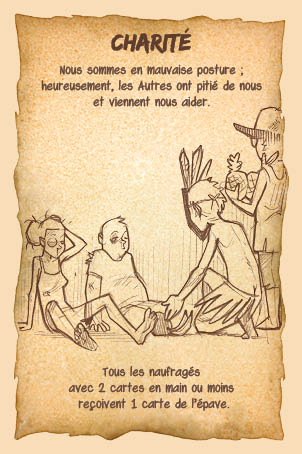 Charity
We are in a bad situation. Fortunately, the Others have pity and come to help us.
Each player with two or fewer cards in hand receives a Wreckage card.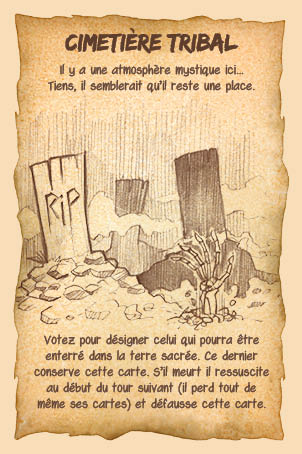 Tribal cemetery
There is a mystical atmosphere here... Seems there's room for one more.
Players vote to designate a living player to be buried in these sacred grounds upon their death. This player keeps this card. If they die, they return to life at the start of the next round (they still lose their cards), and discard this card.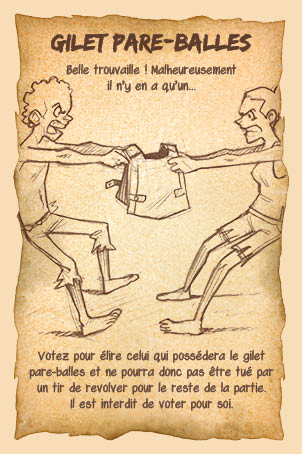 Bulletproof vest
Good catch, unfortunately there is only one...
The players vote for a player to receive this card. the owner of this card cannot be killed by a gunshot for the rest of the game. Discard this if you die by other means. It is forbidden to vote for yourself.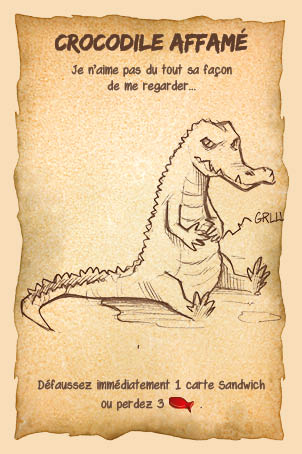 Hungry crocodile
I don't like the way it's looking at me...
A player must discard a Sandwich card or the group loses 3 food ration.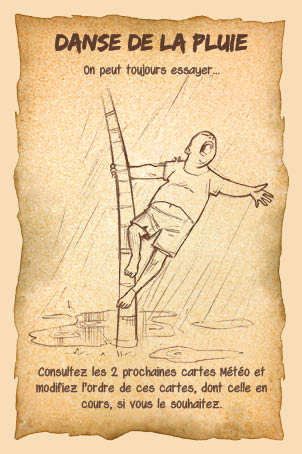 Rain dance
It's always worth a shot.
Players look at the top 2 weather cards. It is then possible to change the order of these cards, including swapping out the current weather card for the round.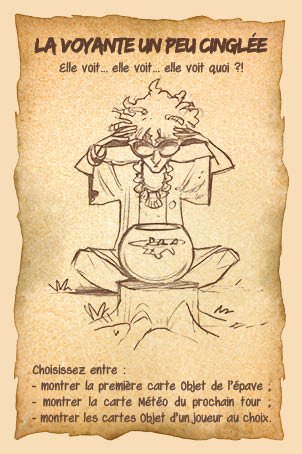 Nutty clairvoyant
She doesn't seem to be a charlatan, right?
Choose between:
- reveal the top Wreckage card,
- reveal the weather card for the next round,
- reveal the Wreckage cards of another player's hand (your choice).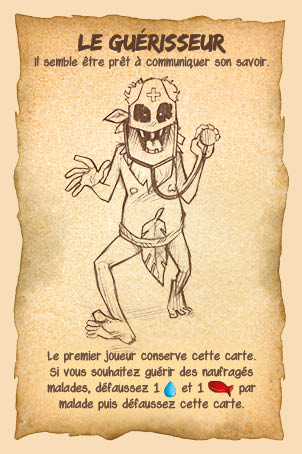 The Healer
He is ready to teach us his knowledge
The first player keeps this card. They may cure sick player(s) by spending 1 water ration and 1 food ration per patient. After use, discard this card at the end of the round.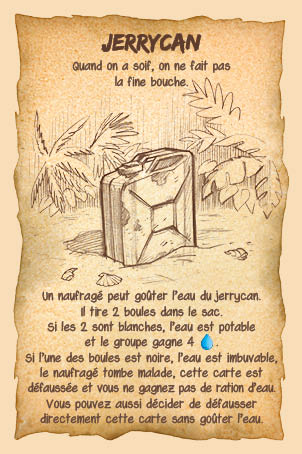 Jerrycan
Can't afford to be picky out here
A player can taste the water of the Jerrycan. He draws 2 balls from the bag. If both are white: the water is drinkable and the group gains 4 water ration. If one of the balls is black, the water is undrinkable, the player gets sick, and gains no water ration. Discard after use. You can also decide to discard this card directly without tasting the water.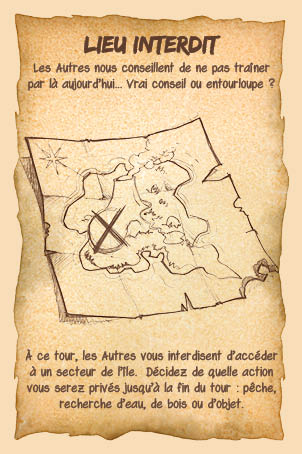 Forbidden places
The Others advise us not to hang around there today... True advice or a trick?
The Others prevent you accessing an area of the island until the end of the round. The players decide which action they will be deprived of until the end of the round: fishing, searching for water, wood, or searching the shipwreck.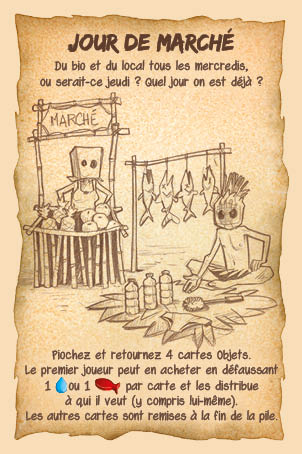 Market place
Organic and local food every Tuesday... or Thursday... what day is it anyhow?
Flip the top 4 Wreckage cards face up. The first player can buy them by discarding 1 water ration or 1 food ration per card. They distribute them to whoever they want (including themself). Place the other cards at the bottom of the deck.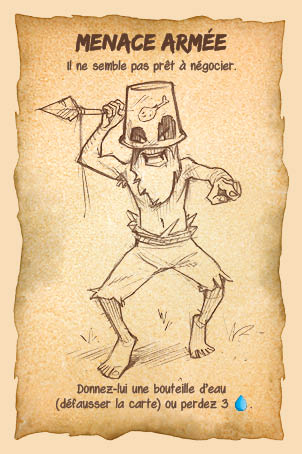 A thirsty maniac
He does not seem to be open to negotiation.
Immediately discard a water bottle card or lose 3 water ration.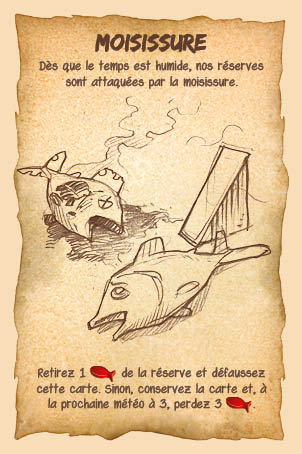 Rotting
The wet weather is making our food moldy
Lose 1 food ration and discard this card. Or keep this card and lose 3 food ration at the next value 3 Weather card.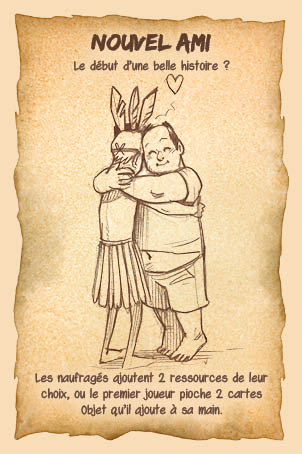 New friend
Maybe the start of a lasting friendship
Players add 2 resources of their choice, or have the first player draw 2 Wreckage cards.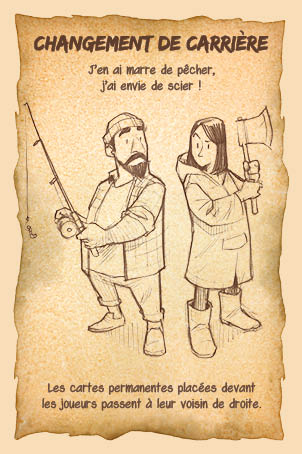 Career change
I'm sick of fishing, I want to chop...
Permanent cards placed in front of the players pass to their right neighbor.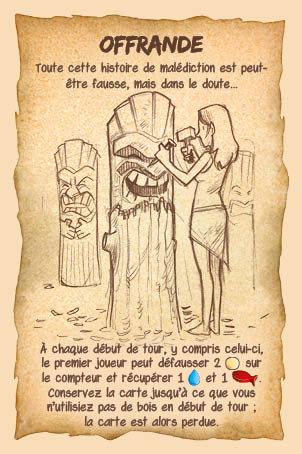 Offering
Maybe this whole curse thing is wrong, but you never know...
At the beginning of each round, including this one, spend 2 wood on the raft track then add 1 water ration and 1 food ration . If you do not use this card's ability at the beginning of a round, discard it.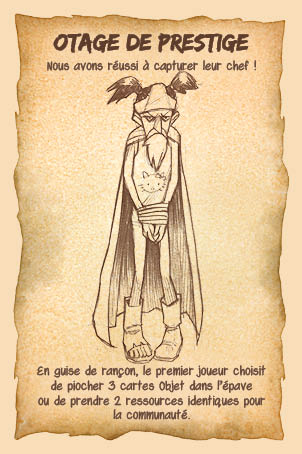 Prestigious hostage
We've captured their leader !
The first player chooses whether to draw and keep 3 Wreckage cards or take 2 identical resources for the group as a ransom.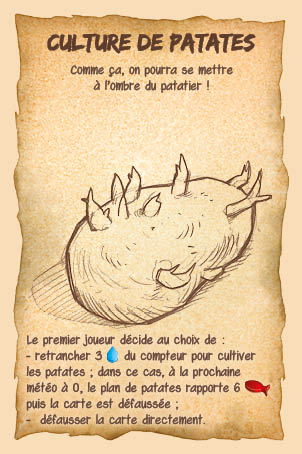 Sprouted potato
One step closer to French fries!
The first player chooses one:
- Use 3 water ration to grow the potatoes. When a 0 drop weather card is next revealed at the start of a round, discard this card to gain 6 food ration and then the card is discarded.
- Discard the card directly.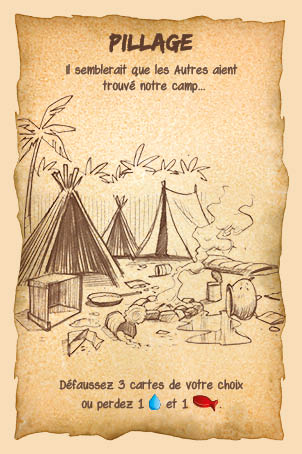 Looting
It seems that the Others have found our camp...
Discard 3 Wreckage cards of your choice or lose 1 water ration and 1 food ration.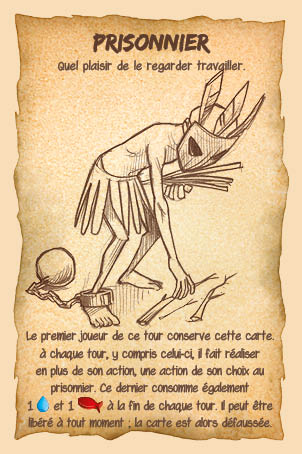 Prisoner
We love to watch him work...
The first player of this round keeps this card. Each round, including this one, they can use the prisoner to take another action on top of theirs. The prisoner also consumes 1 water ration and 1 food ration at the end of each round. He can be freed at any time, this card is then discarded.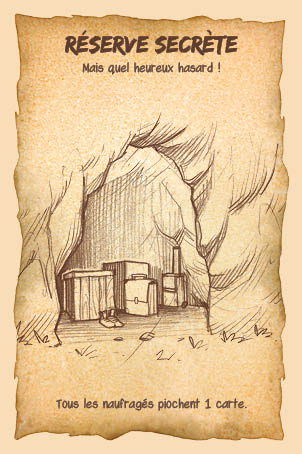 Secret storage
What a lucky coincidence
Each player draws a Wreckage card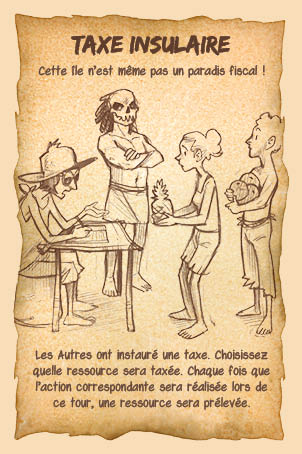 Island duty
This Island is not a tax haven...
The Others introduced a tax. Choose which resource will be taxed. Each time the corresponding action is performed during this round 1 resource will be taken.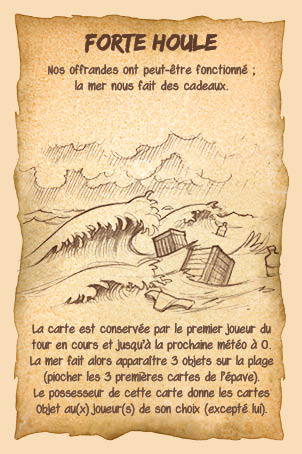 Big swell
Maybe our offerings have worked, the sea gives us presents.
The card is kept by the first player. Each round until the next 0-drop weather card, the sea then displays 3 objects on the beach (draw the top 3 cards of the shipwreck deck). The owner of this card gives the Wreckage cards to other players of their choice (keeping none).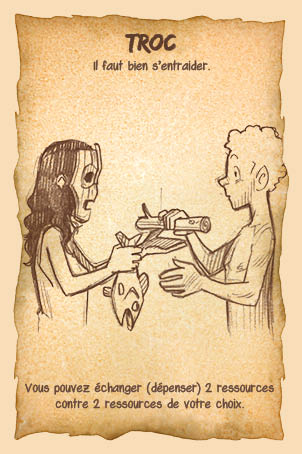 Barter
Sometimes we must help each other
You can spend 2 resources to gain 2 other resources of your choice.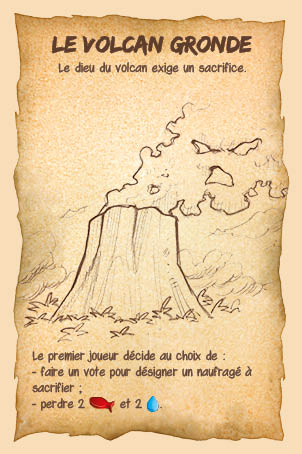 Volcano rumble
The volcano god demands a sacrifice.
The first player decides to either:
- hold a vote to sacrifice a player (they are eliminated)
- lose 2 food ration and 2 water ration