Designers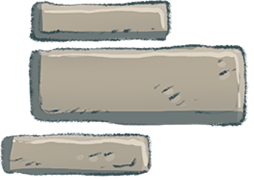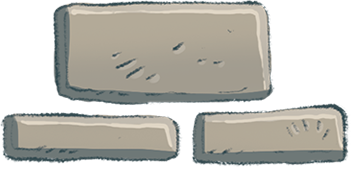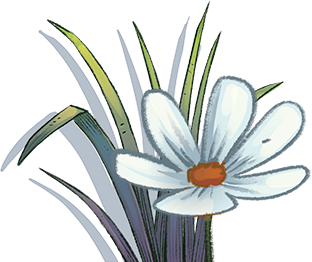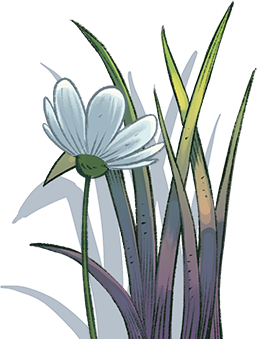 Video
Théo: There aren't many of my games where I can tell you with such accuracy when I had the initial idea, but this one does.
It's Wednesday, February 21, 2018, the eve of my departure for the Canne Game fair and I can't sleep. It is certainly the excitement of the moment that keeps me awake and I start thinking, in the dark and in bed, about this year's selection for the As d'or. In the children's selection, I love the Perlatette game by Marco Teubner, published by Drei Magier and located by Gigamic. I find the game very enjoyable, I am impressed by the central idea and the deployment of its scenography. I keep wandering in my thoughts thinking that I would love to make a game like this and that working with Drei Magier would be a great experience. Then I fall asleep with the first ideas: we look through a large screen at a room in a witch's house, lit with a flashlight, and we have to spot several elements (Is the cat under the table? Is the pumpkin in the fireplace?).
It's an exercise I do very often, having ideas just before going to sleep, and I often wake up the next day having forgotten them or finding them to be useless. The good news is that the next morning I remember everything and that seems to be a good lead.
So I'm off to the fair with that in mind.
Back home, the excitement is still there and I really want to tinker with the first prototype. A lot of elbow grease to get to a very nice (and big) witch house room. I print tokens, I cut out what to play with and then... it's completely useless. Nothing works. It's too big, too noisy, when you shake the box to move the chips, they don't move enough. The idea was nice but (and it happens) the game is not good. Too bad, I'll keep the idea in the back of my mind, but in my head the proto is almost dead.
In life, I'm lucky, my girlfriend is a real player and she's often my first tester. I'm also lucky, she's really cool and she listens to me tell her about my creative days.
So we meet when she gets out of work and I show her the prototype and tell her that it doesn't work, but that I'm proud of my failed proto (because it's beautiful).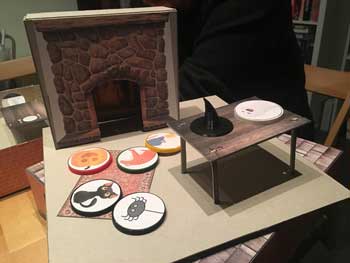 Élodie: One evening like any other, I come home from work and discover on the living room table a prototype of game, like many others crossed in our apartment. Except that this time, the box, which Theo has tinkered with, contains the beginning of a witch's house decor. As I love board games, I'm quite eager for new discoveries in this field (all mechanics and themes combined), but what touches me most in a game is the fact that I feel truly included in a game mechanic. I like to play my own role, to become an actress in a playful scenario and to feel that I am part of a whole universe. And it is this famous feeling that I find again that evening when I test Theo's prototype, leaning over a screen, scrutinizing a witch's belongings before she returns home. The only downside to this first experience is that Theo tells me that the proto doesn't work (and there are indeed a few small problems) and that it might therefore end up on the shelf of the protos on the verge of being forgotten.
Théo: Later in the evening, we head to a friend's house for our role-playing evening. We have about a 15 minutes walk and it's a chance to keep chatting. I continue to squeal a little bit about my work day which has only resulted in a proto that doesn't work...
Élodie: ... And I still think the game could work. That the content would indeed need to be modified a bit to make it more compact and immersive, and that the mechanics would need several adjustments, but that we should not abandon the project. The idea is a good one and can succeed, I remain firmly convinced of that.
Carried by our exchanges, I begin to think about the material seen previously and tell myself that spying on a witch's salon is a good start but that I, as a player, would like to see more. To be able to walk around the whole house. Enjoy a multitude of small details that would make me want to play more.
Théo: So Élodie talks to me about looking around the whole house instead of just bending over in one room and I think it's a great idea. It's the click I was missing, the idea that can change the prototype from "I don't work" to "I'm cool". I think about it while walking and then propose to Élodie to become my co-author. There's always a borderline between feedback from testers and feedback from co-authors, but Élodie offers me a change that is so strong and that I like so much that I can't imagine myself just saying "ok thanks for the idea, it's great".
Élodie: it is the first time I've been asked to do be to-author, so I have no idea where I'm getting into. All I know (and what I like already) is that I'm going to be able to get involved in the design of the second prototype of what was then called "The Witch's House". Measuring, cutting and gluing in all directions is what we do the next day, to see as soon as possible if the idea evoked the day before can save the game. The whole game box becomes the witch's house, divided into four separate rooms and we use the lid to serve as walls and roof for this new version. We go back to Theo's original idea of having a light illuminating the whole thing for a limited time and boom... the model lights up.
Théo: The time has come for the first tests and I confess that everything is going well very quickly. We're having a lot of fun and the game is working the way we would like it to. Of course, there are things to correct, but (and this is unusual) everything is really coming together quickly after this first phase of big doubts.
So we quickly move on to the next step: contacting the publishers. Since Gigamic has located Perlatette and I know them well, I contact them first to present them the prototype (with the idea that if it doesn't match what they do, they might be able to put me in touch with Drei Magier Spiel). Benoît tells me that the game makes him want it and that he's hot to get more information.
I then shoot, as usual, a small video presenting the game and send it to Benoit. At this stage, we talk with Élodie and we're just as eager to work with Gigamic if they're into it. Good news, they're interested. We then meet up with Benoit at the LudiNord festival in Lille and we play a game together. The game kicks him really well and he leaves with a box. As the realization of a prototype takes HUGE amount of time, we present it to only one other publisher. A good day.
Soon after, Gigamic does several tests and wants to give us feedback. The timing is not bad, since we meet again about ten days later for the Ludopathiques, the very nice game weekend organized by Bruno Faidutti. It's without counting on the excitement of the weekend which leaves us little time to chat about the game. Benoit ended up debriefing me, between two rounds of Terraforming Mars and at four o'clock in the morning. We have to rework our copy, but the feedback is very relevant and Benoit's motivation is super communicative.
Élodie: Once back in Brussels, we take up the proto based on Benoit's various remarks.
First point, always in connection with the immersive aspect of the game and the fact of wanting to give more pep to its mechanics: the witch. Our first version proposes an observation game in which the players must then help each other to answer different questions about the location of this and that object in the house. The success of the game is then based on the number of correct answers obtained, as well as on a Hanabi-style scoring system. Apart from the slight stress generated by the lights going out at each round, the game is therefore played rather quietly, with calm response phases which, in the event of a mistake, do not imply any direct repercussions for the players (except for the final score). This calm does not at all reflect our initial scenario of a witch about to return home, who can catch us red-handed at any time.
So we set out to create a movement track (annex to the game board) on which a witch would move towards her house, as the players make mistakes.
Second point, to increase the difficulty of the game. Indeed, it seems interesting to the Gigamic team that our game can propose an evolutionary mechanic to the players in order to vary the games. For me, this also includes offering a game that appeals to both children and parents (who sometimes fear boredom). That being said, we are adding new, more subtle object chips in their illustration to the existing ones. These tokens can be added to the others before the start of the game depending on the level of difficulty required. Finally, still with the aim of improving the challenge offered by the game, we set up three different sets of question cards (green, yellow and red) corresponding to three different levels of difficulty.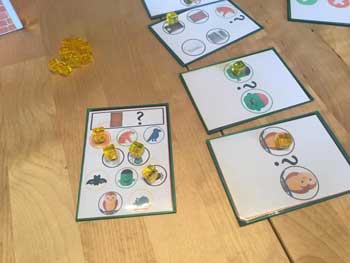 Théo: We send all this to Benoit who comes back to us very quickly to tell us that he likes this version very much. But it's summer, and in summer everything goes slower... so we wait to have a concrete proposal that will soon arrive with the new school year. Seven months after the very first prototype, Gigamic wants to publish the game. Bim, it's an explosion of joy, we're thrilled. I'm even happier than usual because it's also Élodie's first game and I'm as excited as ever to share this experience with her.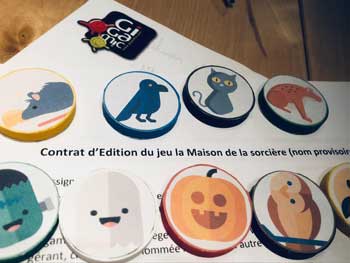 And then... and then you have to be patient a lot. The process of publishing a game is always a bit long, but this one offers a real editorial challenge, and Gigamic is working hard to answer all the questions that manufacturing the game brings.
Élodie: After already several small modifications, Delphine joins us on the project in July 2019. Super enthusiastic, she brings us many ideas to improve the readability of the game as well as its immersive aspect. A board quickly replaces the set of question cards and the witch's house is transformed into a cottage for little mice; giving a much deeper meaning to all the imagined material.
The versions of the game follow one another, the rule writing and rereading multiply and we discover the first sketches of Jonathan Aucomte. Each modification makes the project more and more concrete to me, and each illustration made by Jonathan increases my excitement. I can't wait for each appointment. I very quickly forget my stress and shyness of the first exchanges and I am especially happy to see that we all four of us share the same vision and attachment to this game.
Théo: The life of the game continues quietly and we are weaving a very beautiful working relationship with Delphine. She keeps us up to date with each evolution and I feel we are very listened to. I've never stopped telling her, but I'm not even afraid that she might get a big head, Delphine is one of the best editors I've had the pleasure of working with. The discovery of Jonathan's illustrations is also a great pleasure. At that time, I know his work quite well, but I never came across him. The situation changes since I have the opportunity to meet and exchange with him after recording a Tric Trac TV. Jonathan tells me he had a lot of fun working on the game (especially, too cute, thinking about how his daughter would discover the game when she's a little older) and shows me the sketches of the mice (and logo) in his notebook. I'm over the moon.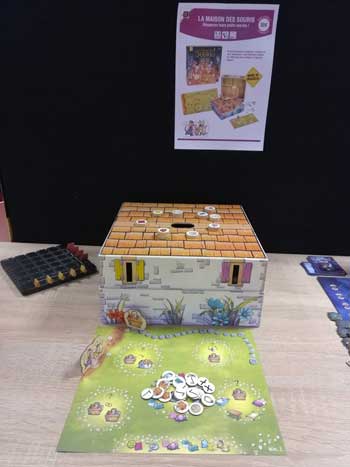 Élodie: It is on January 20, 2020 that we begin to receive the first photos of the colored prototype of what will become Peek-a-mouse. I then realize how far we've come when I compare this new version of the game with our cardboard prototype with its sometimes-acrobatic cut-out.
Almost a month later, I manage to make a jump to the Cannes Game Festival with Theo and find myself for the first time in front of the said model. I am like a kid, both overexcited to finally be able to observe in detail everything that has been done since the beginning of this adventure and at the same time completely intimidated by the situation. I approach a hesitant step of the game and don't dare to take the box in my hands, which makes Delphine smile. I am simply amazed by the result and the fact that this game is ours.
Finally, I can't talk about this Cannes Game Festival without talking about my meeting with Jonathan. It was while leaving a restaurant that Theo introduced me to him for the very first time and that I finally discovered the face of the one who was hiding behind these magnificent illustrations. A surprising encounter, because after several months spent working together on the same project as complete strangers to each other, we finally discuss the game side by side.
Théo: At the time Élodie and I are writing this notebook, it's summer 2020 and Peek-a-mouse is coming up in a few short months. Despite the fact that I have already released a few games, it is always with a mixture of apprehension and joy that I see one of my new creations arrive. Here, the game is special on many levels and I hope you will find the magic we wanted to put in it. Have a good trip to Peek-a-mouse and thank you for your reading.
Élodie: Like Theo, I'm waiting for the first boxes of our game to appear with a light ball in my stomach at the thought of knowing what you're going to think of them. I hope you'll like it, just like this notebook. As for me, I'm already more than satisfied with the road we've travelled and happy to have been able to bring this project to fruition alongside Benoit, Mathilde, Delphine, Jonathan and all those who, in the shadows, have been involved. A big thank you also to Théo for helping me, in addition to his co-author's cap, as a guide in this adventure, of which I was discovering all the steps. Finally, thank you for your reading and your perhaps future first steps in Peek-a-mouse.